Infrastructure Report Card 2023
Infrastructure Report Card
Public works are essential assets for the economic and social development of any society, becoming the fundamental pillars of prosperity and the quality of life for its citizens. Therefore, Public Administrations must make the necessary investments to ensure not only the proper provision of public works but also their adequate management and maintenance.
The goal of our report is to identify not only the aspects of infrastructure that need improvement but also to detect the threats and opportunities that stem from them. This will enable the competent authorities to make decisions based on objective criteria to address these challenges. Given that infrastructure has a very long maturation period, it is planned that the reports will be conducted every 4 years.
A total of six sectors are analyzed: Roads, Railways, Ports, Airports, Complete Water Cycle, and Urban Public Transport. For each of these sectors, eight aspects, referred to as "Criteria," are evaluated: Capacity, Performance, Financing, Adaptability to the future and sustainability, Operation and Maintenance, Safety, Resilience, and Engineering and Innovation.
As for the methodology, a quantitative evaluation is carried out for each criterion in each sector, based on the analysis of objective indicators (formulas) from both Spain and other countries in our economic environment. Additionally, a qualitative evaluation is conducted through surveys conducted by recognized experts in each of the six sectors analyzed. In total, more than 300 indicators have been used, and over 200 experts have participated.
The presentation of the work was made at both the annual Congress of the American Society of Civil Engineers (ASCE) in the city of Chicago and in Spain, during an event which took place on Friday, October 27, 2023, at 10:00 at the Association's headquarters (38 General Arrando Street, Madrid). For more information, chick here.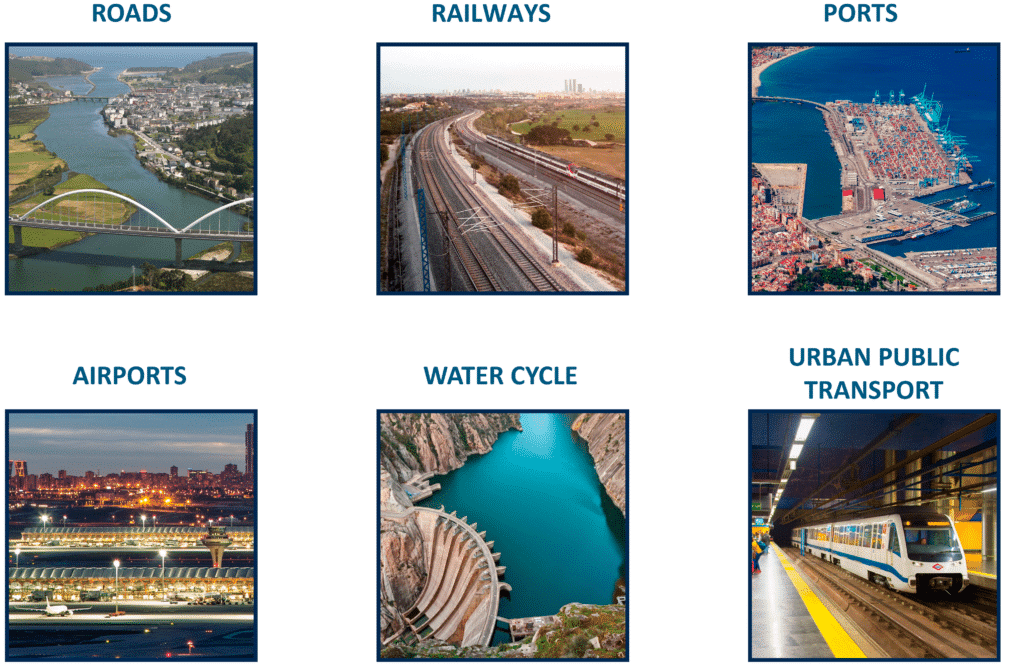 Documents Report Card 2023
The final documentation will be available starting from the next Friday, October 27th, and it consists of the methodology, seven reports (a executive summary and one report for each sector), and seven summaries in the form of brochures (one global and one for each sector).
You can download the complete reports here:
You can download the summaries here: